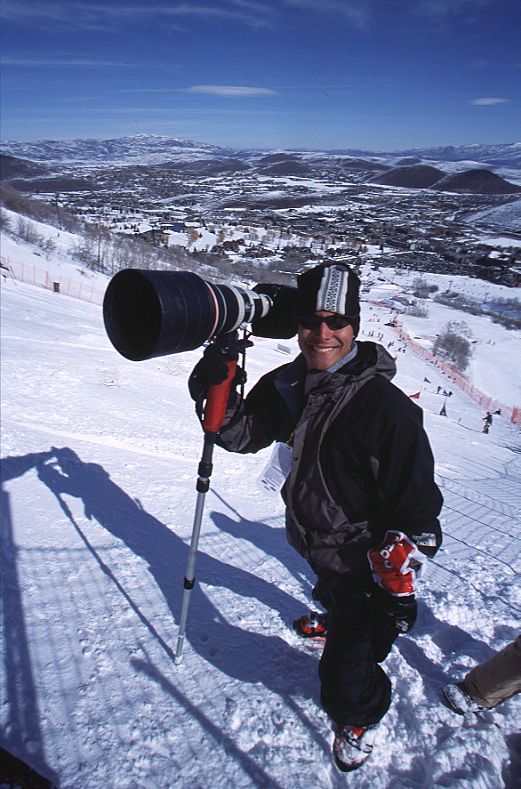 ABOUT
"He definitely sees things in a different way. He thinks differently. And I think a lot can be learned by other photographers. They're all at the same event but nobody else saw the same thing." – James Colton, Photo Editor Sports Illustrated from PDN Cover Article 2007.
"Donald is great at any challenge set before him. He is a true visionary and problem solver. I've had the pleasure of working with him on several occasions and the outcome has always been stellar. He's an absolute Team Player and linchpin on any project." – Jason Murphy, Art Director Nike.
Donald Miralle has received over 50 international awards for his work including 6 World Press Photo Awards for his Olympic and Sports work. He has been named the Sports Photojournalist of the Year by both the National Press Photographers Association and Pictures of the Year International multiple times for his still photography, and in 2020 was nominated as part of a team for an Emmy for his underwater and drone videography work the NBC Sports at the IRONMAN World Championships.
After receiving his BA in Fine Arts from UCLA , Donald joined his love for sports and art into a photography career. Known for his unique approach to sports, adventure and portraiture, his work has been sought after by both commercial and editorial clients like Sports Illustrated, National Geographic, Discovery Channel, Outside, New York Times, Nike, Ironman, Getty Images, and NFL Players Association. He has covered every major sporting event and iconic athlete in the last 30 years including 10 Olympic Games, 15 Super Bowls, 30+ Golf Majors; as well trekked across the Himalayas, dove in the cenotes in the Yucatan, and chased massive waves in the South Pacific.
Donald contributed to the industry by serving on the contest juries for the Best of Photojournalism, Swedish Pictures of the Year, and the Wisconsin and Utah Press Photographers Associations Contests. He has served as a keynote speaker at the PDN PhotoPlus Expo, Great White North Workshop, and is active with the education of photojournalism at Brooks Institute, Art Center College of Design, and Pacific Ridge School. In 2013, Italian Publisher Dueotto, Nikon Italy, and La Stampa Newspaper sponsored the Donald Miralle 2.8 Workshop, the first hands-on sports & underwater photography workshop of it's kind in the country.
An accomplished athlete in his own right, Miralle was an All-American Swimmer at Loyola High School and at UCLA on the Men's Division 1 Swim Team under the legendary Olympic Coach Ron Ballatore. More recently, he has placed 2nd three times at The Molokai 2 Oahu Paddleboard World Championships, has been runner-up and 3rd place twice at the prestigious Catalina Classic Paddleboard Race, and still holds the course record for the Waterman Challenge now in it's 30th year. He also serves as Head Swimming Coach for La Costa Canyon High School, giving back to the sport he loves and helping student athletes accomplish their goals in and out of the pool.
He lives in the San Diego beach community of Leucadia with his wife Lauren, their sons Luke and Micah, dogs Kaya and Chucky, and their overweight cat Rigby.
AWARDS
World Press Photo Contest, Amsterdam Netherlands 2005, 2006, 2010, 2012, 2014 (Children's Award in 2001)
Pictures of the Year International: 2005, 2006, 2007, 2008, 2009, 2011, 2012, 2013, 2014, 2015, 2016, 2017.
NPPA Best of Photojournalism Contest: 2005, 2006, 2007, 2008, 2011, 2012, 2014, 2015, 2016, 2017, 2022
CLIO Award 2014 Advertising Work, MLB Branding
NFL Hall of Fame Photo Contest: 2001, 2003, 2004, 2007, 2008
The PGB Photo Award 2010 Stockholm Sweden
PDN Photo Annual, 2012 NYC
PDN "The Shot", 2013 NYC
International Photography Awards, Multiple Award Winner 2009
Graphis Photo Annual, Gold Award 2009
PX3, Prix de la Photographie Paris, Multiple Award Winner 2009
Sasakawa World Sports Photography Contest, 2002 Adidas Award
Mobius Awards, 2008 Ad Campaign for the NFLPA
Pele Awards, Silver Award2018 for Hana Hou / Hawaiian Airlines
National Headliner Award, Sports Illustrated 2000
California Press Photographers Association: 2002, 2003, 2004, 2005
Sportsshooter Photographer of the Year: 2004, 2005
SHOWS AND WORKSHOPS
Who Shot Sports, A Photographic History, 1843 to the Present. Gail Buckland, Knopf. Worldwide traveling exhibition 2017-2018
Wide Angle View Exhibit, Orange County Center for Contemporary Art, 2011
World Press Photo Traveling Exhibition, 100 events in 100 cities, 1999-2014
POYi The Annenberg Space for Photography, Los Angeles 2011-2014
Behind the Lens (Arnold Newman, Brent Stirton & Donald Miralle) 2005 New York.
Arets Bild, 2007 & 2008 Sweden.
Union of Danish Photojournalist Conference, Keynote Speaker, 2011 Copenhagen DEN.
50th Anniversary National Convention of the University Photographers Association of America (UPAA) Keynote Speaker, 2011 Salt Lake City UT.
PDN PhotoPlus Expo, Keynote Speaker, 2006 New York.
Great White North Workshop, Keynote Speaker, 2006 Vancouver Canada.
Brooks College, Guest Speaker, 2006-2009 Ventura
Art Center of Design, Guest Speaker, 2007 Pasadena
Minnesota Press Photographer Association, Guest Speaker, 2007 Minneapolis Central Library
Sportsshooter Academies, Instructor, 2005-2008 Los Angeles, CA.
2.8 Dueeotto/Donald Miralle Sports Photography Workshop, 2013 Torino Italy.
Leucadia PhotoWorks, The Workshop. 2016 Encinitas , CA.
The GeekFest, Keynote Speaker, 2017 Pasadena, CA.
BOOKS
Who Shot Sports, A photographic History 1843 to Present. Gail Buckland, Knopf USA 2017
Edge of the World: A Visual Adventure to the Most Extraordinary Places on Earth. Outside Magazine, USA 2017
The Art of Donald Miralle, 2.8 Dueeotto, Italy 2012
American Photography 26, USA 2012
The Fall, Lance Armstrong, with Juliet Macur. Italy 2013
Faces, Outside USA 2005
A Day in the World, Sweden 2012
Hotshots, Sports Illustrated USA 2004
The GM, with Tom Callahan (New York Times Bestselling Author) USA 2006
Cover-Up, with John Feinstein (New York Times Bestselling Author) USA 2005
The PGB Book , Stockholm Sweden 2010
World Press Photo Book, Amsterdam 1999-2014